Lessons in Composition for the Art Photographer
Lesson 1: Unity and Cohesiveness versus Fragmentation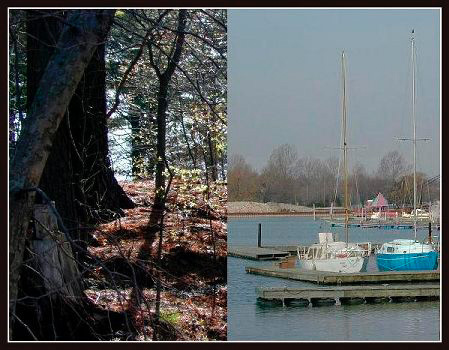 Figure 1a. Diptych*
In Figure 1a I've taken at random the left half of one photo and stuck it to the right half of another. Try to see this as a single image ... I certainly can't. As far as the viewer is concerned, she is still seeing two different pictures that happen to be side by side.
Figure 1b. Yard, Sky, Tracks
In Figure 1b, we have a single vista, just as I photographed it, but the single vista is nearly as schizoid as Figure 1a. Figure 1b wants to fragment into three different images: the green grass on the left, the brown of the railroad tracks on the right (together with the strip of houses and trees on the left) and the blue of the sky above.
Figure 1b. Abstract
The bold geometric lines of the railroad third further fragment this image by being confined to that area. The viewer will accept this image as one picture but functionally it's very nearly three separate pictures (the band of homes and trees above the grass ties it together by a single thread!).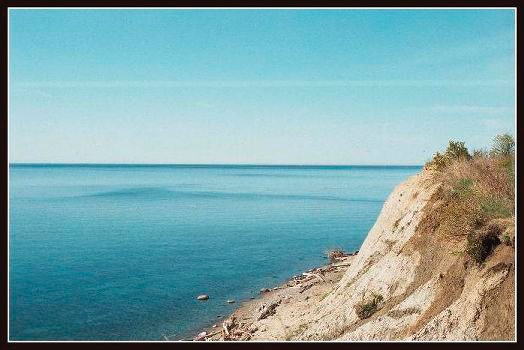 Figure 1c. Sky, Water, Shore
Ditto for 1c. The only connection between tan shore and blue sea and sky is the fact that these elements have been forcibly confined in the same frame. Sea and sky have blueness in common; otherwise they aren't talking to each other, either.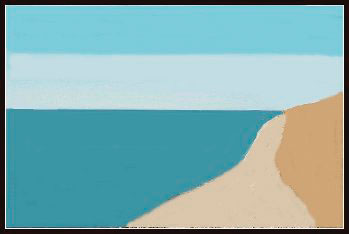 Figure 1c. Abstract
The simplistic interpretation of the above would be to always be on guard against your pictures fragmenting into two or more unrelated sections. In general, this is a useful principle. Just bear in mind that fragmentation and juxtaposition represent powerful dynamic tools. Figure 1c is far from an exciting image, however, the very fragmentation of this image provides it with what little energy it does possess.