Cotton's Guide to Camera Shopping, 2016
Fixed-lens Designs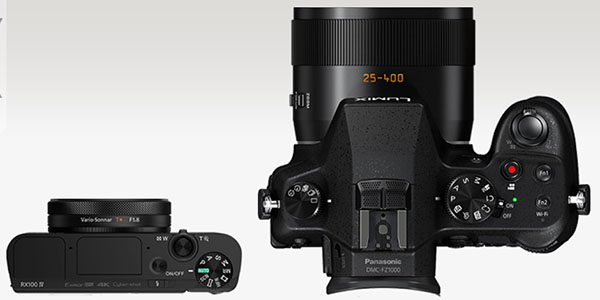 Sony RX100M4 and Panasonic FZ1000 (from CameraSize.com)
(Rather than an exhaustive analysis of this specialty sector, I'm just going to zero in on a few stand-out products.)
In 2012 Sony rocked the camera industry with a new hefty but pocketable camera called the RX100. Previous pocket cameras had sensors no bigger than a fingernail in order to keep the lens correspondingly small. For technical reasons such small sensors have marginal image quality and need a flash to operate in low light. The RX100 shoe-horned what's called a 1" sensor, which at 116 mm2 is nearly twice the size of the biggest sensor previously used in a pocket camera. Because this was an Exmor sensor, and 20 MPs no less, it's image quality rivalled that of much larger cameras. The lens covered a very practical range equivalent to 28-100 mm for a full frame design. The camera also used a rare in-lens (leaf) shutter, giving it an essentially silent operation. The camera was so small that its controls were finicky and had some quirks, but it did allow all the control needed by an expert photographer.
Each year thereafter Sony has released a new version of the RX100, while still continuing to sell the former versions at a reduced price. The current version is the RX100 mark IV, which sports a miniature EVF that pops up from inside the body of the camera, a tilting back LCD, and 4K video capture (with limitations). The sensor is still 20 MP but with better performance both in light capture and speed of response.
Canon is now using the 1" Sony sensor to produce a variety of small fixed-lens cameras, some of which are direct competitors to Sony's RX100 models.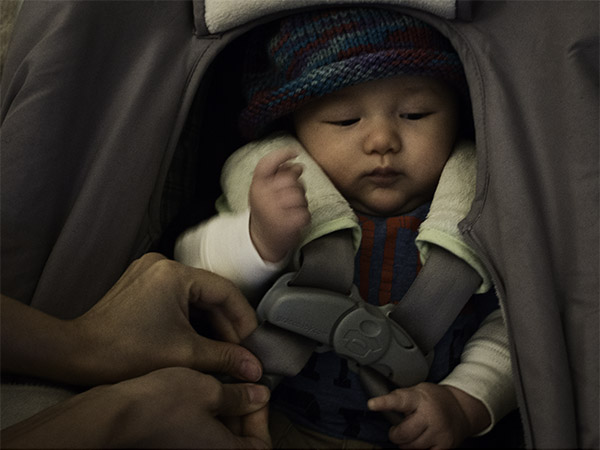 RX100M2 at 4000 ISO. © Dale Cotton, 2015. All rights reserved.
A camera like this is a brilliant tool by enabling general photography via a camera that fits in a pocket. It can be all one needs to take on a vacation, family outing, or a hike through rough terrain. But it especially shines for capturing unposed images of people doing all the things that people do in their daily lives, a genre that photographers call street photography, for historical reasons. The small size of the camera lets the photographer pass for a tourist in many environments; its silence allows it to go unnoticed even during a church service; its pocketability and lack of a need for flash lets it capture many a concert or museum shot; and the resulting image quality rarely shows any compromise for the smallness of the camera.

Canon S120 vs. Sony RX100M4 (from CameraSize.com)
That said, the RX100 series cameras are hefty and thick in-pocket. The Canon S120 uses a smaller sensor (see point&shoot sensor illustrated on page 3) to create a significantly lighter and slimmer camera with a retracting 24-120mm equivalent lens. Image quality is at least decent in good light but is essentially unusable past 800 ISO, so the built-in flash is needed in dim lighting conditions.
In the opposite direction Panasonic now uses the same 1" Sony sensor as in earlier RX100 models to produce a stand-out fixed-lens tele-zoom camera, the FZ1000. Pretty much the same size as a standard dSLR, the FZ1000 has a bright 25-400 mm lens, allowing one to get bird/wildlife shots that would normally require a lens about the length of one's forearm.